Purchase Prints
Pricelist

Photo galleries

Contact us
All of our images are available for purchase for your home or business in various sizes and styles.
Buy in person:
Visit the Montanus Gallery in downtown Rochester. View hours and directions.
Order online:
- View our online photo galleries and for our very latest work, view our Facebook Photo Stream

- Then Contact us with your order and we can ship anywhere in the U.S.
Check out our Installation Gallery to see the types of prints we offer:
We recently installed 80 24x36" gallery wrapped canvas prints at six local Q-Dental facilities.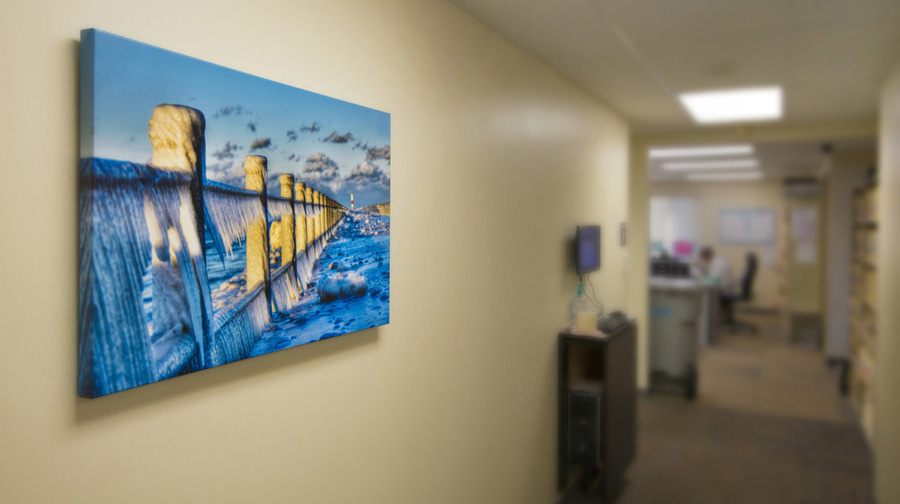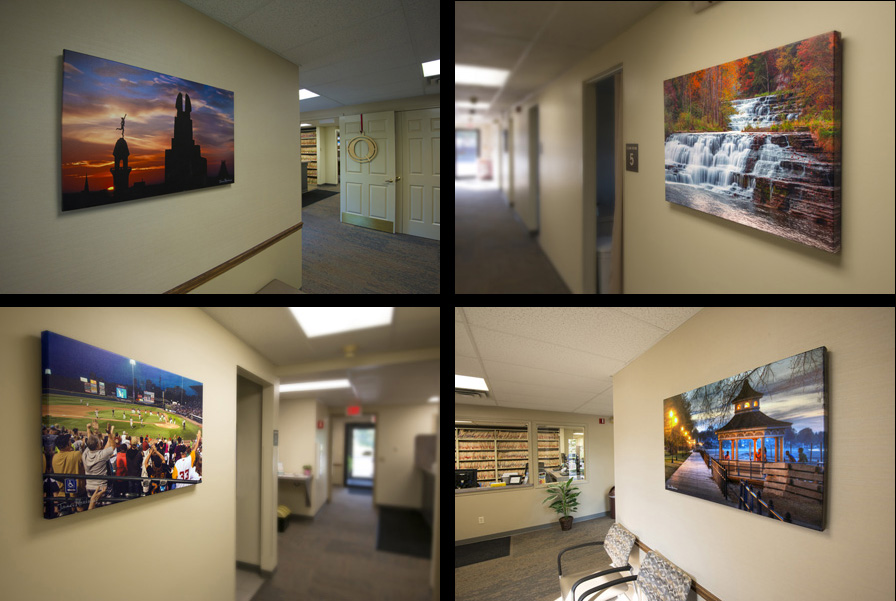 Highland Hospital in Rochester, New York. These prints are backlit transparencies.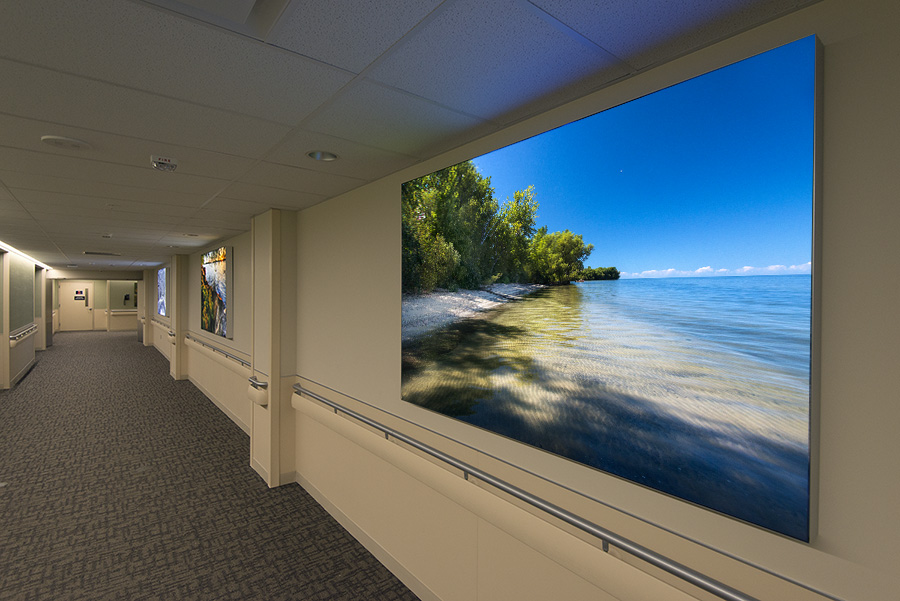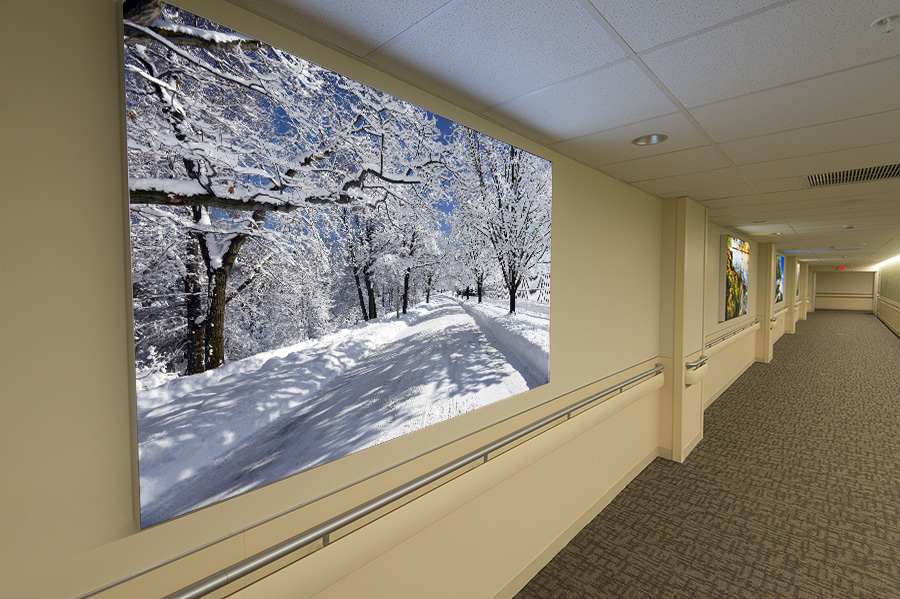 One of our pictures has been installed in every guest room at the Greece Marriott - 208 rooms in all. It was blown up to mural size and takes up an entire wall. This is part of a major renovation at that property. It's an abstraction of one of my winter pictures. I worked with a very talented interior designer to fulfill her creative vision for the room design. Pictured here is the original photo, the edited version and how it appears in a guest room today.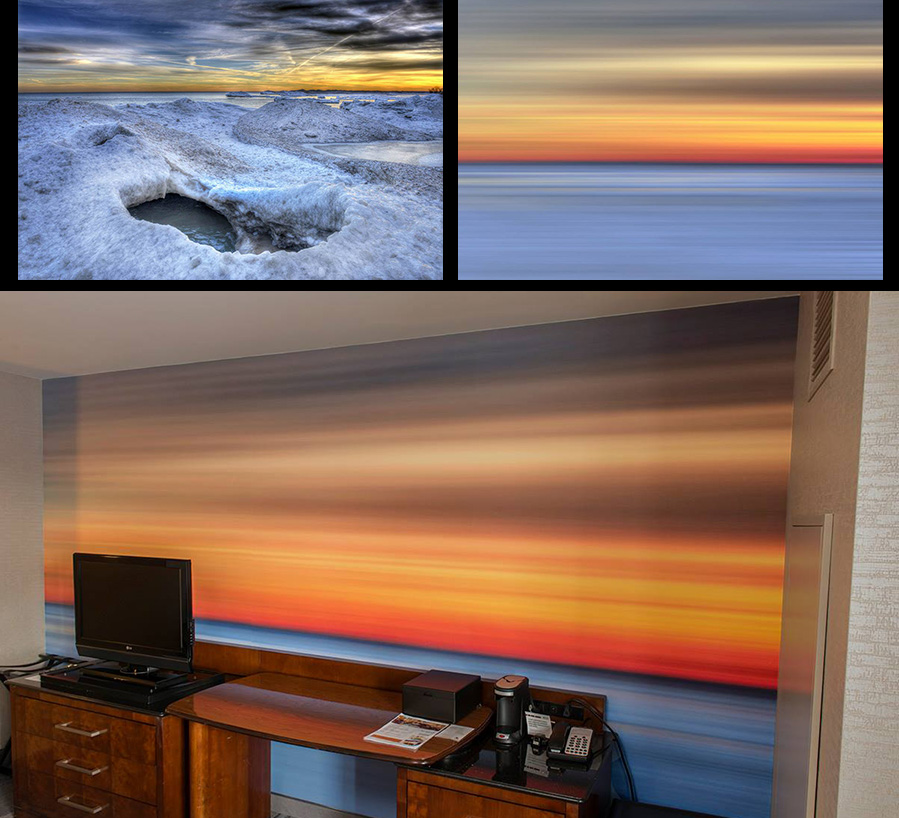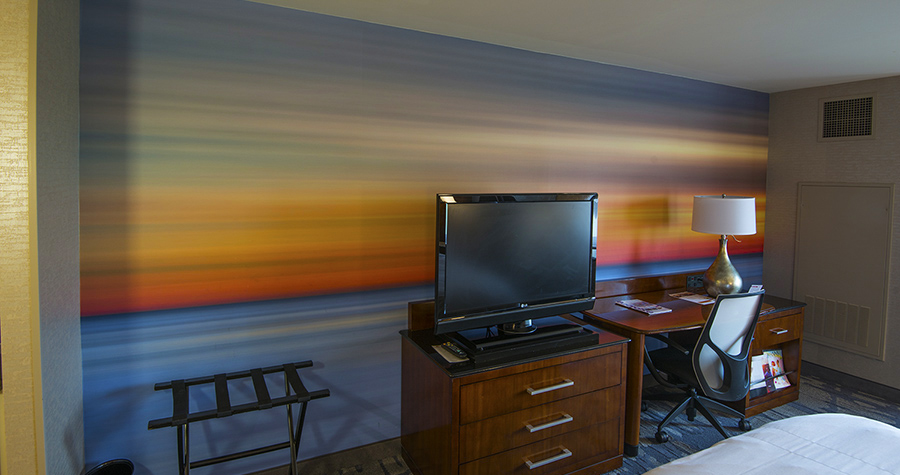 A recent installation of a 38x27 inch canvas print from Neil's Bacteria Collection in a customer's home.
The abstract colors and detail of the print makesit a nice centerpiece to the main living space.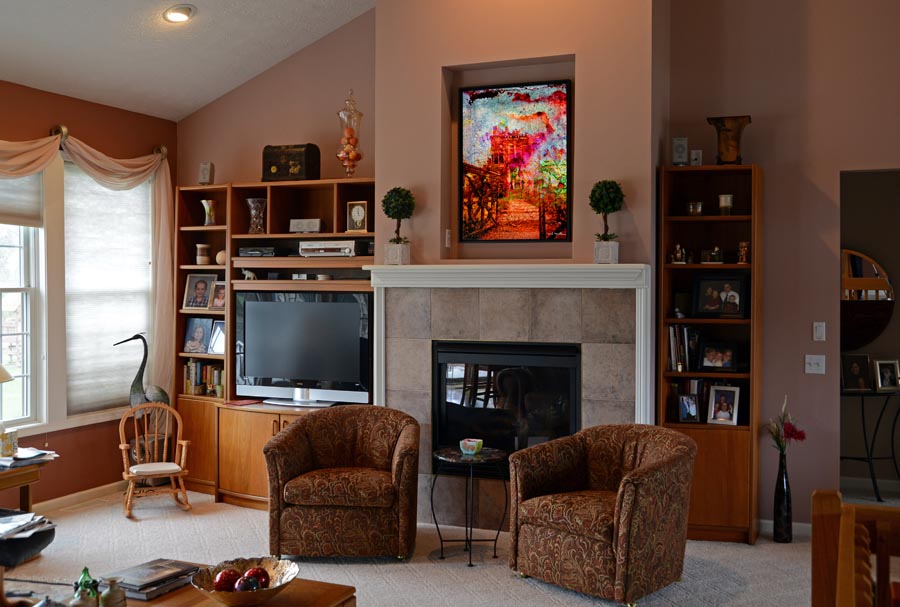 A recent installation of Brockport area pictures at the Unity medical offices at Brockport.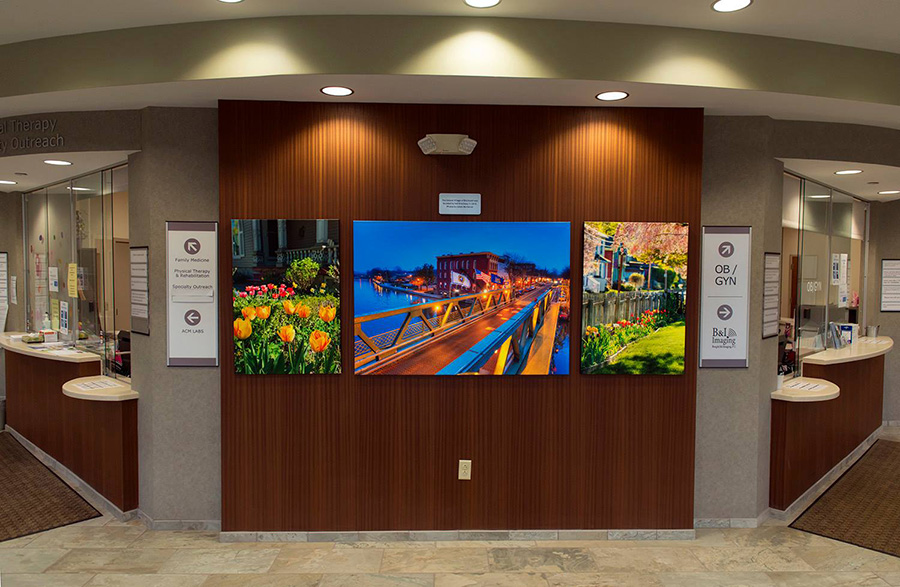 Rochester Regional Health System's Unity Hospital Concourse. These prints are mounted in between
two sheets of high quality acrylic using a stand-off mounting system.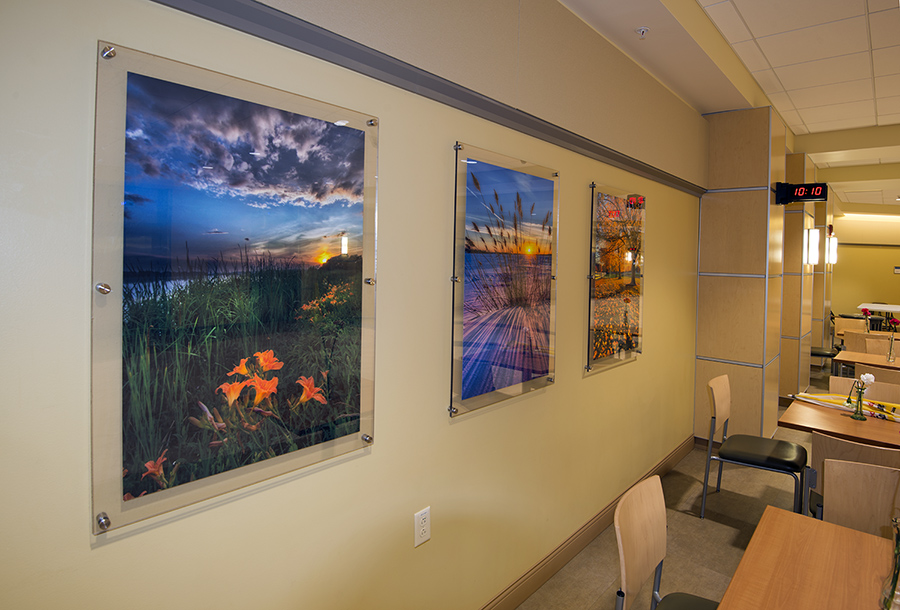 Rochester Regional Health System's Unity Hospital Concourse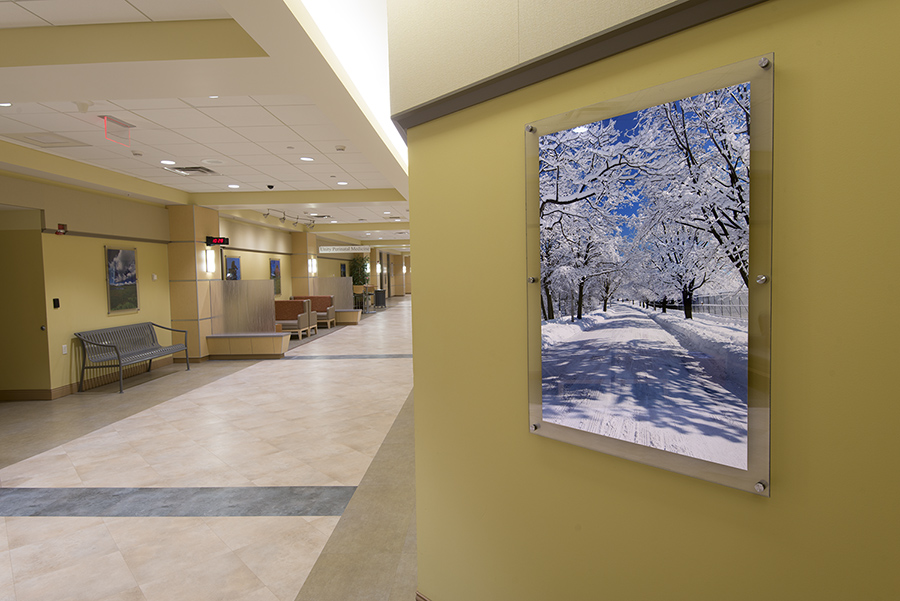 This collection of 14x20 prints was recently installed in a 10th floor apartment in Downtown Rochester.
The theme of Rochester Cityscapes was perfect, given this apartment's location and view of the city.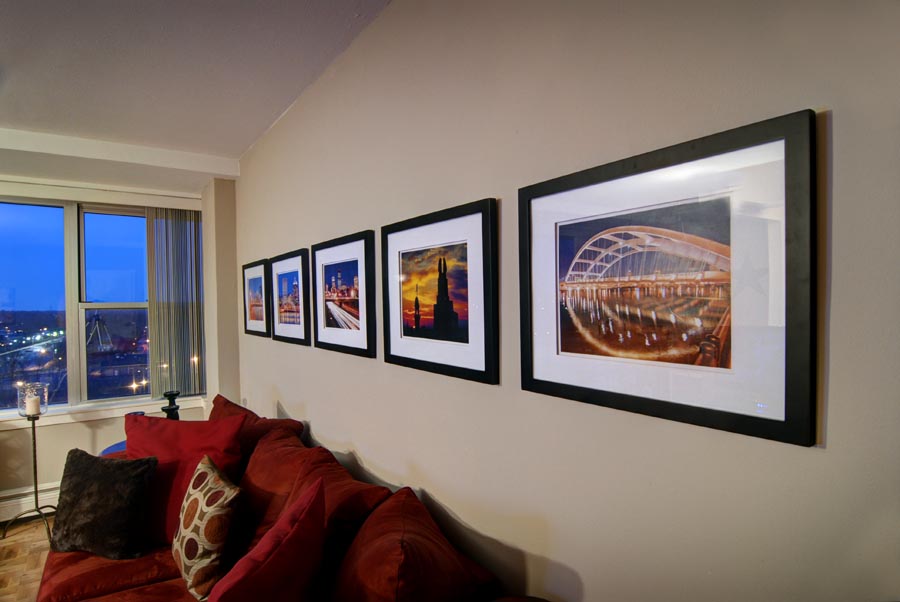 This is our standard gallery framing, an 18 x 12 print, 3 inch mat and an 18 x 24 outside frame dimension. This is the only
stock frame that we keep in stock in the gallery. For custom frames, we refer our clients to a local frame shop.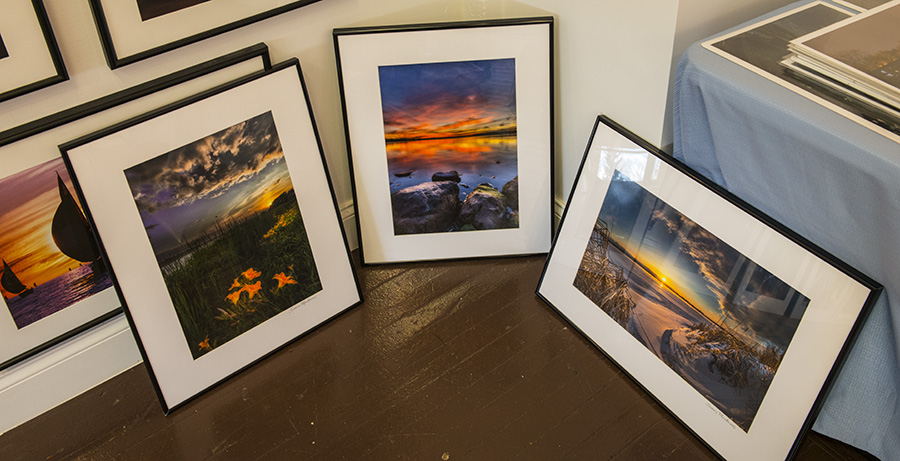 Acrylic face mounts are a truly stunning, unique product which are suitable for contemporary homes, office spaces, hotel lobbies, and restaurants.
They enhance the contrast, sharpness and color saturation to photographic prints for a glossy appearance unobtainable by any other framing method.
This framing technique is widely used in museums and galleries throughout the world and remains one of the most impressive ways to
showcase an image.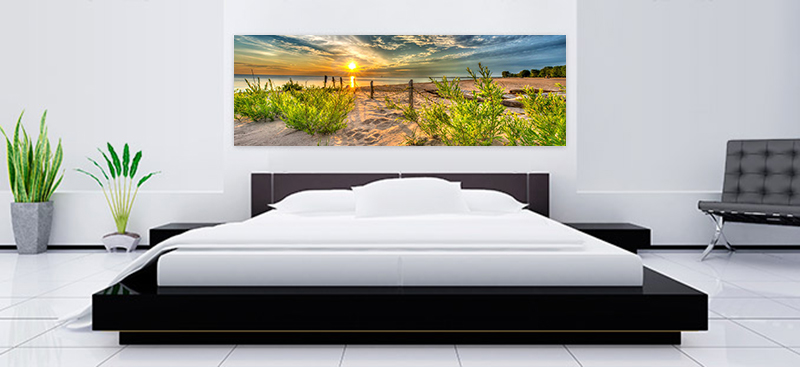 These 36x24" images were recently installed in a major local health care facility.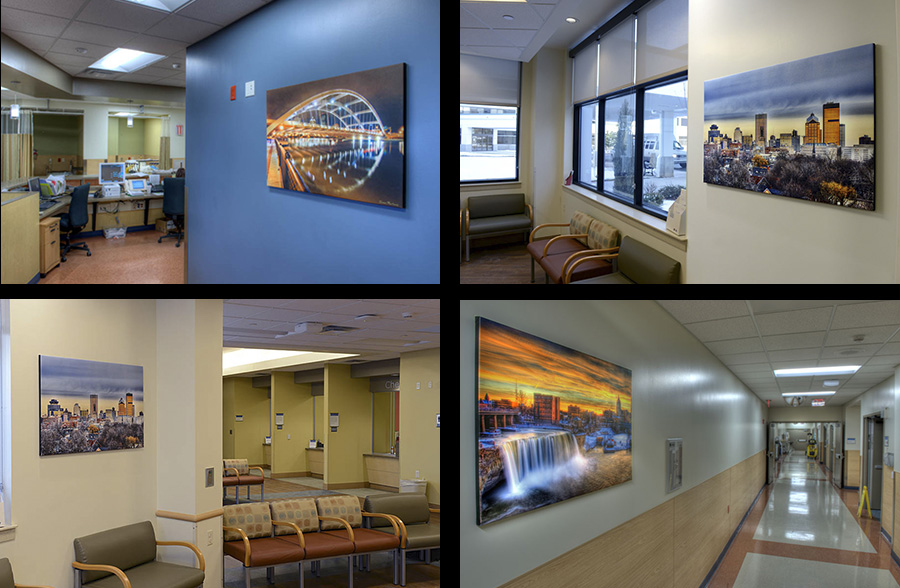 Delivering a pair of 16 x 24 canvas prints to a client.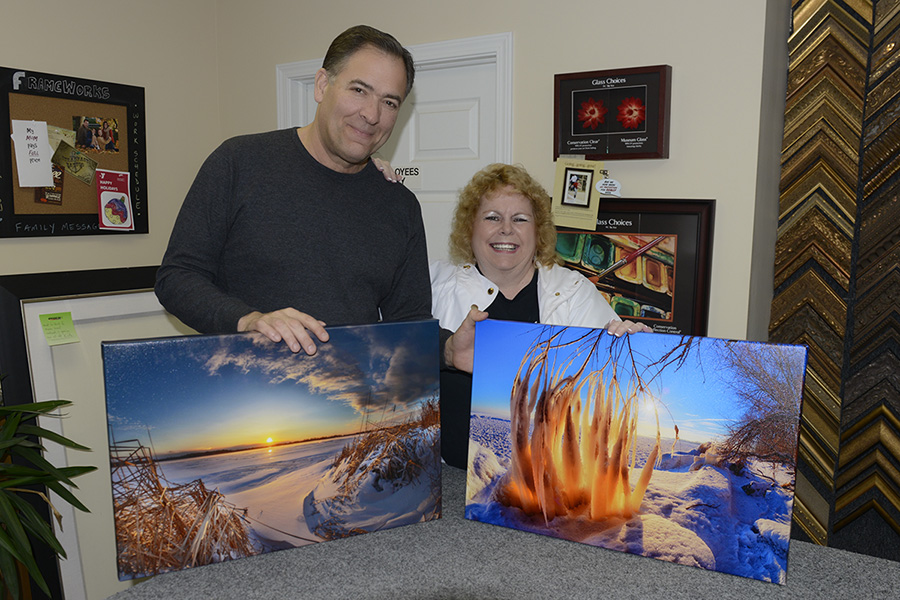 These are 'gallery wrapped' canvas prints which means the image wraps all the way around a 1.5 inch wooden frame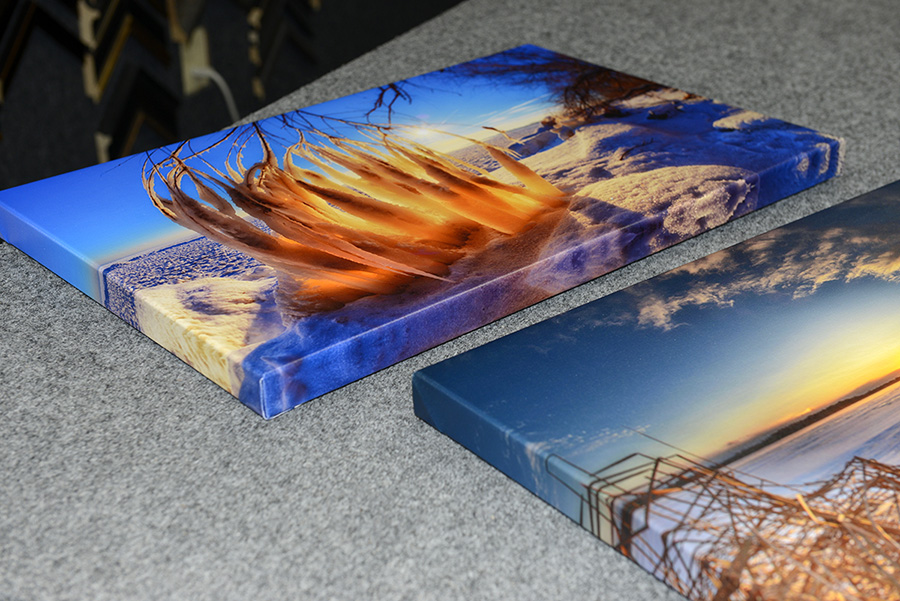 The Rochester Philharmonic used many of my images during a concert in which local
scenes were 'photo-choreographed' during Copland's Outdoor Overture.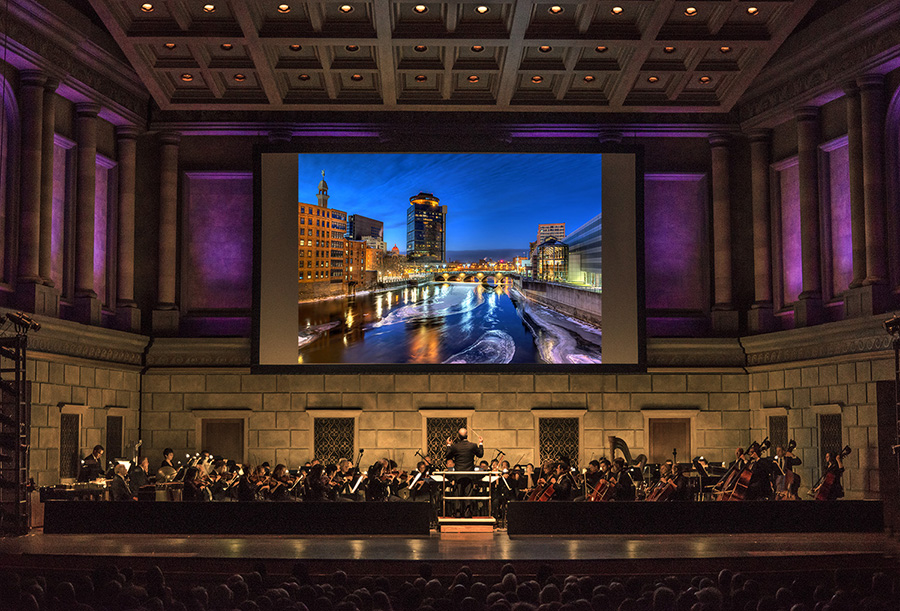 55 x 55 inch canvas print in a float frame being installed at Alstom Corp. in West Henrietta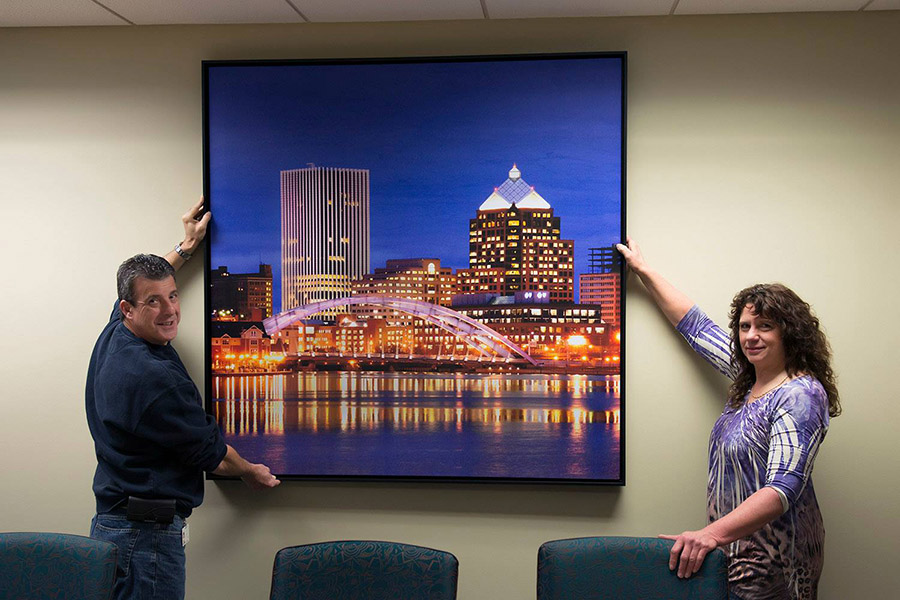 This beautifully framed print of downtown Rochester was installed in a downtown law firm.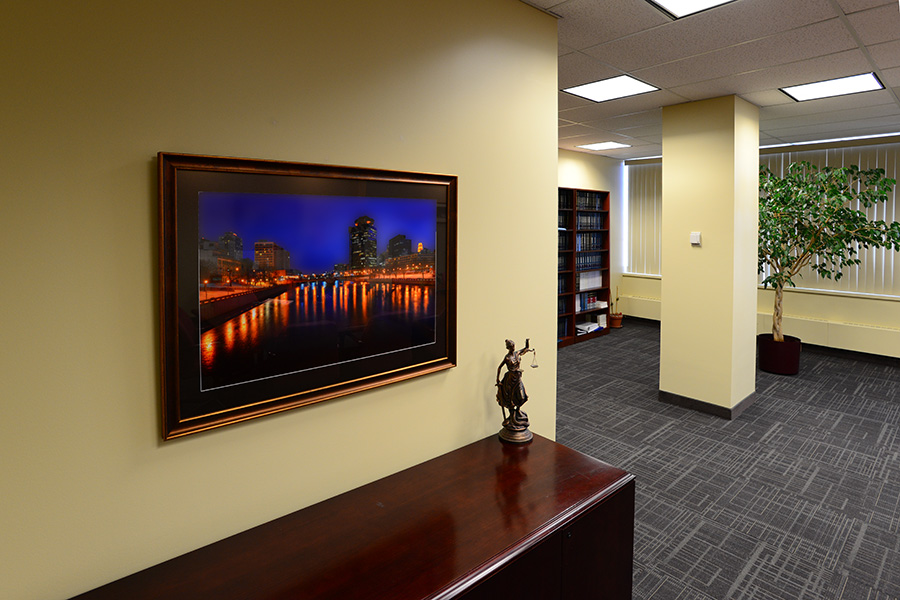 I recently had the pleasure of delivering these 24 x 36 inch canvas prints to this delightful young lady at Paychex to
decorate her office. The print on the left is a Charlotte Beach Sunrise and on the right is a Lake Ontario sunrise.

A medical director at a local Hospital in Rochester chose this nine foot long panorama to decorate her office.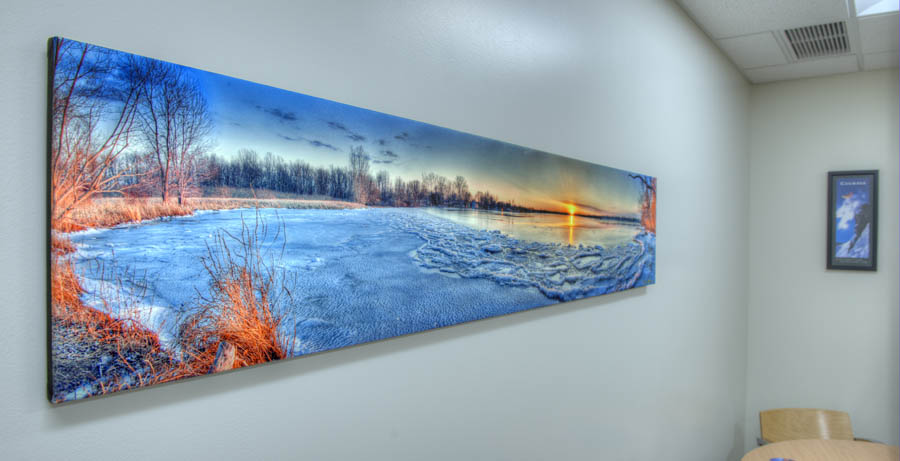 These three large canvases (38"x27") of Rochester scenes graced the lobby at Flower City Tax on Ridge Road West.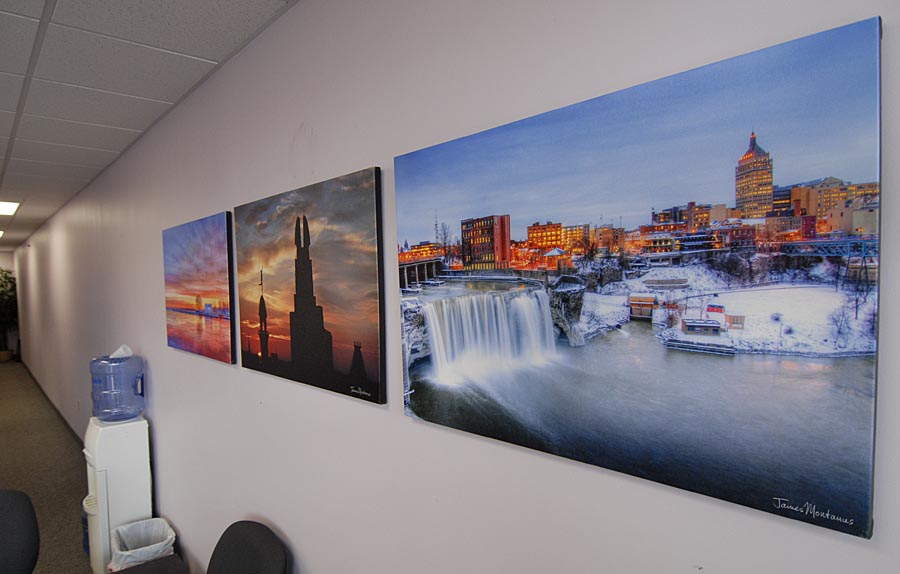 48x33 inch canvas high dynamic range print of High Falls in downtown Rochester.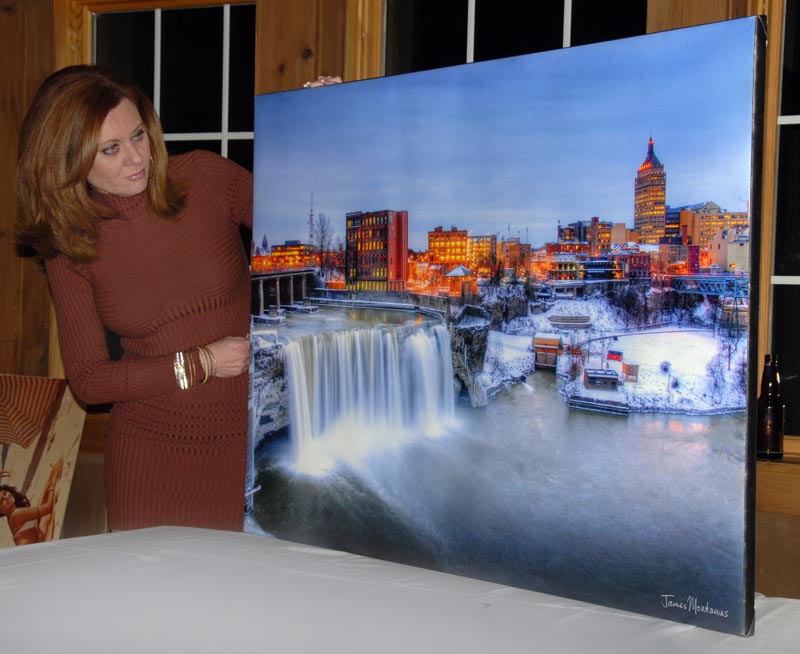 Several of our photos decorate the new Unity Hospital Concourse in Rochester New York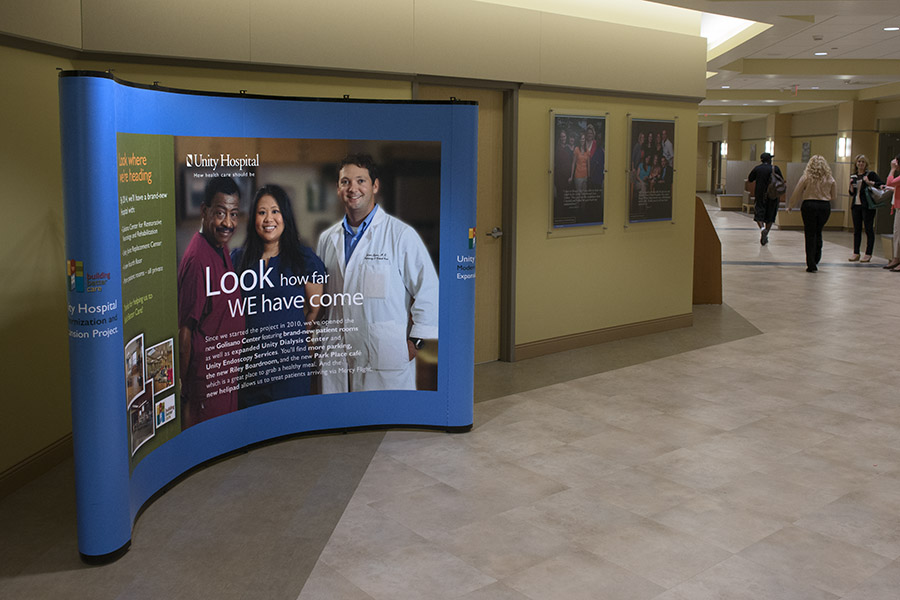 Rochester Regional Health System's Unity Hospital Concourse