Photography classes, Tours and Meetups
Learn photography... the Montanus way!
Group Classes

Private lessons

Photo tours

Meet-ups

Presentations



Please note: As of January 1, our classes will be held in the Greece Regional Chamber of Commerce Conference Facility on West Ridge Road in Greece across from the Mall at Greece.
2402 W Ridge Rd, Rochester, NY 14626 Google map


---

Fundamentals of Photography - 4 class sessions
March 2019:
Four consecutive Thursdays beginning on March 7, from 6:30 to 9:00 pm $175 Sign up
April 2019:
Four consecutive Thursdays beginning on April 4, from 6:30 to 9:00 pm $175 Sign up

I will be announcing more class dates soon. Please contact us to be put on our notification list)

From understanding shutter speeds, apertures, exposure, depth of field, to time exposures and night photography - this class is very comprehensive and will cover the full gamut. I will share with you all my best tips and tricks that I use to capture the pictures you see on social media and elsewhere. Without understanding the fundamentals of photography, it is very difficult to take your photography to the next level. I utilize this knowledge every time I shoot. Our fundamentals of photography class lays down the foundation for your future learnings. If you are new to photography and looking for help or if you have a new camera and want to get the most out of it, this is the class for you. You receive homework assignments to shoot pictures that reinforce what we have learned in class. At the beginning of each class, we then critique your pictures, examining what settings you used and why - as well as the technical and artistic quality of the pictures. This is a very powerful learning tool to put you on the fast track to becoming a photographer.
Review full course description here.

---

Night Photography -
Wednesday March 20 from 6:30 to 9:00 pm. $60 Sign up
I will be announcing more class dates soon. Please contact us to be put on our notification list)

From fireworks pictures on the fourth of July to lightning storms. Learning how to do night photography opens up a whole new world of possibilities. It is some of the most magical and dramatic photography - and it's easier than you think. This class will teach you everything you need to know about night photography. Although not required for this class, having a tripod is key. We review an extensive amount of information in this class. It starts off as a classroom lecture using a large high resolution monitor to teach the principles of night photography. Then we practice doing time exposures in the gallery before heading outside to put our skills into action.

---

High Dynamic Range (HDR) Photography - (and other awesome post-processing techniques!)
Wednesday March 27 from 6:30 to 9:00 pm. $60 Sign up
I will be announcing more class dates soon. Please contact us to be put on our notification list)
Learn how to post-process your images like a pro. I will teach you literally all of my secrets of how I edit my photos that you see on social media and elsewhere. Nothing is held back! We will progress into more advanced techniques such as bracketing exposures and HDR photography using Photomatix. Finally, we will learn image blending techniques using layer masks in Photoshop (sounds complicated, but it much easier than you think). It starts off as a classroom lecture using a large screen monitor to show examples of HDR photography. Then we practice doing bracketed exposures in the gallery with your specific camera.
Contact us to reserve your spot.


High dynamic range (HDR) photography techniques turned the picture on the right - into the picture on the left.

---
Other classes: if you are looking for a class and don't see what you want listed above, please let me know and I may offer it if there is enough interest. If you have a photography club or other group and would like me to come in and give a seminar, please contact me.
---

NEW!! Photoshop Simplified!
Photoshop 101: Beginning to Intermediate Photo Editing in Adobe Photoshop CC
April 2019:
Two consecutive class sessions Wednesday April 17 and 24, from 6:30 to 9:00 pm $120 Sign up


Most Photoshop classes start by taking you through every tool and menu option in the program. This is totally overwhelming and the wrong approach and is why so many people struggle with Photoshop. In this class we take a simplified approach to get you up and running in Photoshop after the first class. Photoshop is a powerful photo editing tool if you concentrate on a smaller, easier-to-use subset of tools that will handle 90% of your photo editing needs.
We will start by making basic adjustments to your photos, such as exposure, highlight and shadow recovery, sharpening, adjusting and enhancing color and detail, processing Camera Raw images, and saving your images using a filing system that makes sense to you.
In addition, this class is specifically for photographers. As a result, we will not waste time on the tools used primarily by graphic designers, architects, and the many other professions that use this program. Photoshop is my go-to program for most of my photo editing and by the second class I will share with you the special 'magic' that I use to create the images that you see on social media and elsewhere.
IMPORTANT: You must provide your own laptop and have the latest version of Adobe Photoshop CC installed, tested and known to be running properly. Photoshop elements and earlier versions of Photoshop will not work for this class.

Level of Knowledge Assumed: Basic understanding of your digital camera's settings and options. Efficiency in operating a computer is also assumed — students will be expected to be able to comfortably browse around a computer to keep up with the class.
---

NEW!! Studio and Outdoor Portrait Lighting 101
Learn how to create professional portraits using popular and time-tested lighting techniques
Full day workshop with models: Date TBD based on demand. 9:00 am to 4:00 pm $120 Sign up

In this class, I will teach you the concepts of the quality and direction of light as it relates to creating stunning portraits. And then we will apply that theoretical knowledge to taking portraits using a real world portrait lighting set up in the studio. Using a model, we will explore and experiment with the various lighting techniques that are popular today.
My father Neil Montanus taught me the portrait lighting techniques that he used to create portraits of Walt Disney and President Gerald Ford, among many others. And I will transfer that knowledge to you during this class.
The ultimate goal of this class is to make beautiful pictures of your subjects that they will be thrilled with. This includes overcoming those things they may be self-conscious about. We will study how to minimize blemishes and other problems. And then I will show you how I edit and retouch my photos, including skin-softening techniques.

---
One-on-one sessions are nice because it allows us to focus in what specifically you want to learn - while taking into account your current skill level. Some people are newbies and want to learn basics and fundamentals, while others are more advanced and want to learn very specific techniques such as high dynamic range photography, night photography, portraiture, etc.
We teach wedding photography, portraiture, off-camera flash fill lighting techniques, studio techniques - and much more.
We also review your camera equipment and train you how to more effectively use it, something that is difficult in the context of a group class. Of course, post-processing of images is huge in the world of digital photography and I can give you a very thorough overview of the advanced techniques professionals use to create the beautiful images you see on social media and elsewhere. Contact us to schedule your private lesson.

- Three-hour private lesson or workshop: $200 at my location, $250 for a half day. (Small up charge for additional students) customizable for your unique situation/needs.

- New! Family photo workshop/private child lesson, includes Mom and Dad - in your home or in the field. $250 for half day (4 hours), customizable for your unique situation/needs.

- Full day workshop for one person: $600 includes travel to multiple Western NY destinations, customizable based on your needs.

- Full day with up to five people in my Toyota Siena Passenger Van: $800, including travel around the area. (Additional students and longer distance travel additional)

- Full day photography tour. I can accommodate from 1 to 12 people on an excursion/training session of your design. We can follow the same routes as some of my most popular day trips in Western New York or you can create your own itinerary: Finger Lakes, waterfalls, SeaWay Trail, etc. With me as your tour guide, of course our main goal is taking great pictures and learning photography as we go. But the day will also be filled with fun, laughs, camaraderie and adventure. Bring your friends, family, church group or social organization. I have availability on weekdays and weekends.
Contact us for a customized quote.
---


Presentations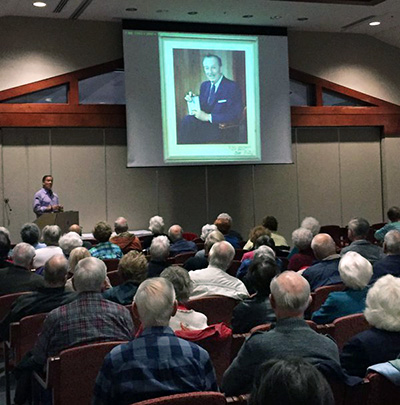 Hire us to give a presentation to your large group or organization. Our presentations are fun, informative and very popular and can be catered to just about any audience for a variety of purposes.
Our most popular presentation features the images of my father Neil, a former legendary Kodak photographer who traveled the world creating advertising photographs for Kodak and whose resume includes the official portraits of Walt Disney and President Gerald Ford. It's an inspiring and fascinating presentation.
And then we talk about how to improve your everyday photography and give many examples from our collective portfolio of work. Consider bringing us into your company or organization for a lunch and learn presentation – or an intensive 4 or 8 hour photography seminar. We specialize in beginners and advanced amateurs who are hungry to learn more about photography or who just want to be entertained with a great presentation.
Contact us about pricing and scheduling information.